Named after five female identifying Black musicians who changed the history of Rock and Roll (Minnie after Memphis Minnie,
Tharpe after Sister Rosetta Tharpe, Lynn after Barbara Lynn, Joan after Joan Armatrading, Thorton after Big Mama Thorton), Nikita Gale collaborated with the designers of the BMW i7 electric car and a London-based guitar luthier to design five fully functional guitars. The guitars include parts and processes, as well as paint finishes sourced directly from the BMW i7 factory.
"Today Frieze and BMW revealed details of the 2022 BMW Open Work commission, curated by Attilia Fattori Franchini. Established in 2017, the joint initiative between BMW and Frieze brings together art, design, and technology in a pioneering multi-platform format.
The technologies of sound and speed have been closely associated since the 1960s. The Gibson Firebird, one of the most popular electric guitars, was created by car designer Ray Dietrich and introduced to the general public in 1963. Gale's project 63/22 explores the relationship between these technologies and unfolds how they have culturally influenced one another through design. As part of the BMW Open Work 2022 commission, the artist created a sculptural installation comprising a series of electric guitars imagined in collaboration with BMW i7 designers and activated by live performances in the space. In addition, the artist invited BMW i7 designers to sketch utopian, functional, and dysfunctional guitar bodies. These sketches will provide the starting point for the creation of sculptural guitars, a mixture between a functional object and an artwork. Investigating the history and politics of sound, Gale's practice questions themes of invisibility and audibility, recasting the dynamic between performer and spectator. Within the work, notions of witnessing, visibility and
representation are subverted and destabilized." - Frieze
Minnie
The form of this guitar is directly inspired by the automotive production process where a negative press form creates the exterior body of a car. This production process is called inversion, revealing a negative form. By using the same 'inversion' approach to the guitar, the sound produced differs revealing shapes through a transparent body. The player's hand needs to enter the body interior to play.
Memphis Minnie began singing and playing guitar on Beale Street in Memphis–"the blues capital of the world"–at just thirteen-years-old. She was born in Mississippi by the name Lizzie Douglas in 1897 and was discovered by a talent scout for Columbia records in 1929. Under the label, she released a series of records performing duets with her husband at the time, Joe McCoy. After her divorce from McCoy, she became established in Chicago, releasing dozens of songs and touring extensively. Her vocal and guitar skills have cemented her as one of the most popular female blues country singers of all time, covered by countless musicians and inspiration to many more.
Technical Specifications
Named after: Memphis Minnie
Sketched by: Sebastian Simm
Wood Type: Mahogany, with an Ebony fingerboard
BMW i7 Paint Finish: Alpine White
Characteristics: Removable front, rare earth magnets, making the guitar "convertible"
Tharpe
A completely metallic guitar with a square headstock, long neck and geometric edges. The sound comes through a laser-cut grid, the same found in the i7 interior side.
Sister Rosetta Tharpe, often referred to as the "Godmother of Rock and Roll," was born in 1915 in Cotton Plant, Arkansas and not even two decades later she was already brewing up on her guitar the foundations of what would soon be the newest international music sensation: rock 'n' roll. Tharpe, her musical style informed by her family of religious singers, cotton pickers, and traditional evangelicalists, developed her signature style in Chicago in the mid-1920's. Her fusion of Delta Blues, New Orleans jazz, and gospel gained her huge popularity, and by the late-30's she was in New York City performing with some of the biggest musicians of the time. It was Tharpe, a Black, openly queer woman, who created and shaped the earliest days of rock with her rawness, talent, and grit. The list of musicians she has directly influenced is seemingly endless–from Elvis to Johnny Cash to Chuck Berry–and she was inducted into the Rock and Roll Hall of Fame in 2018.
Technical Specifications
Named after: Sister Rosetta Tharpe
Sketched by: Sebastian Simm
Wood Type: Alder body, with a Maple neck
BMW i7 Paint Finish: Mineral Grey on the neck and Nardo Grey on the body
BMW i7 Components: Steel Speaker Grill
Lynn
Inspired by BMW's affinity for interior shapes and fabrics, this guitar is dressed with a soft felt cover, the same used for BMW i7 seats and interior details.
Barbara Lynn, born in Beaumont, Texas in 1942, is a prolific, chart-topping R&B singer, guitarist, and songwriter. Lynn, a left-handed guitarist, began performing in local clubs in Texas before being discovered by singer, Joe Barry, in the late 1950s. Her first single, "You'll Lose A Good Thing," was number one on the US Billboard R&B chart and Top Ten Billboard Hot 100 hit in 1962, and was later covered by Aretha Franklin and Freddy Fender. Lynn, who wrote, sang, and played lead guitar for all of her songs, toured extensively with the likes of Gladys Knight, Stevie Wonder, Dionne Warwick, Al Green, and Marvine Gaye. She received a National Heritage Fellowship from the National Endowment for the Arts in 2018.
Technical Specifications
Named after: Barbara Lynn
Sketched by: Henri Freyberg and Karl Johannson
Wood Type: Bird's Eye Maple neck, with a Roasted Swamp Ash body
i7 Components: BMW individual merino leather/wool-cashmere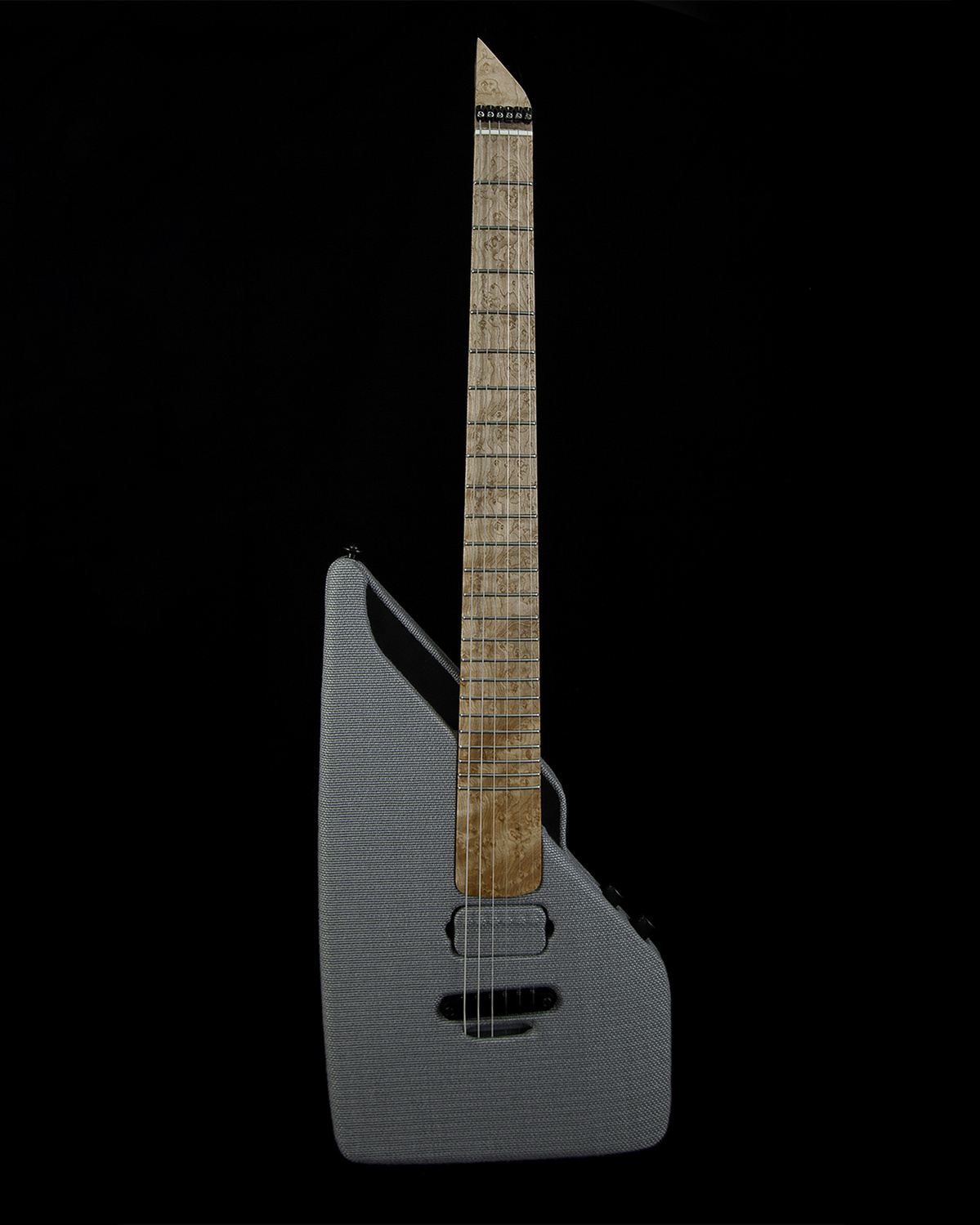 Joan
A futuristic geometric design characterises this floating guitar realised using materials such as glass and metal typical of automotive interior forms. The focus on high quality materials that reveal the guitar's technical structure transforms the instrument into a direct extension of the player's body.
Joan Armatrading is a Kittitian-British singer-songwriter and guitarist with an over 50 year long recording career. She has released 20 studio albums, as well as multiple compilation and live albums. Armatrading was born in 1950 in Saint Christopher and Nevis and began writing music on the piano when she was 14. Her mother later bought her a guitar, which she taught herself to play, and by 16 she had begun playing local shows in her new hometown in Birmingham, UK. Armatrading met lyricist Pam Nestor in 1970, who helped her release her first album, Whatever's For Us, in 1972 under Cube Records. She continued to release albums–including her breakthrough self-titled album in 1976–and soon became one of the first Black British female artists to gain international success. Armatrading is a 3-time Grammy nominee and 2-time Brit Award best female vocalist nominee, and was appointed Commander of the Order of the British Empire in 2020 for services to music, charity, and equal rights. She released her latest album, Consequences, in 2021.
Technical Specifications
Named after: Joan Armatrading
Sketched by: Henri Freyberg and Karl Johannson
Wood Type: Bird's Eye Maple neck, with a Roasted Swamp Ash body
BMW i7 Paint Finish: Fire Orange
Characteristics: Acrylic Fingerboard Cover
Thornton
An imaginative and conceptual guitar, using BMW i7 MyModes technology as inspiration. Each chord activates bringing forward a different set of parameters, feelings and emotions.
Big Mama Thornton's contribution to rock and roll runs as deep as the genre itself. Some of the most famous songs in rock history are in fact the work of Thornton. Big Mama Thornton (born Willie Mae Thornton), was a singer, songwriter, and guitarist born in Alabama in 1926, and was the first to record "Hound Dog," in 1952 with writers Jerry Leiber and Mike Stoller. Though Thornton's recording topped the R&B charts, it did not reach mainstream success until it was later covered by Elvis in 1956. Thornton, too, wrote and originally recorded the song, "Ball and Chain," but the song was not released until it was covered by Janis Joplin years later. Despite much uncredited success on these two hit songs, Thornton continued to record and tour extensively, performing both in the US and in Europe. Thornton is known for her deep, powerful, loud voice and her equally large personality. She was heavily inspired by gospel music and blues singers such as Memphis Minnie and Bessie Smith, and was inducted into the Rock and Roll Hall of Fame in 1984.
Technical Specifications
Names after: Big Mama Thorton
Sketched by: Corinna Exner
Wood Type: Korina (Limba) Body, Wenge and Ebony Neck
BMW i7 Paint Finish: Frozen Black